Are you experiencing domestic abuse? There is help.
HOPE of Ogle County is a non-profit organization that helps survivors of domestic abuse. Our services are free and confidential.
To speak to an advocate, you can call our 24 hour crisis hotline at: 815-562-8890.
Domestic Violence Awareness Month: PAWS for PEACE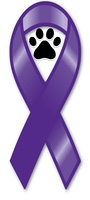 October is Domestic Violence Awareness Month. HOPE is launching an awareness campaign about the intersectionality between animal abuse, domestic abuse, and child abuse. To help us spread awareness, dress your pet in purple, snap a picture, and share your cute pet pics with us on Facebook. Go to our PAWS for PEACE page to find out how to celebrate your pets, look at some pictures to get you inspired, and possibly win prizes while helping us with this initiative.
Next